Update 23rd November
All salons will be open as normal on WEDNESDAY 2nd DECEMBER from 9am.
Our online booking is open 24hrs a day 7 days a week as always.  If you prefer to call us our phone lines will be open for bookings limited times only (see below)  until opening on the 2nd of December when we will be back to normal hours.
Wednesday 25th November. Thursday 26th November & Friday 27th November 10am to 12pm.  Monday 30th November & Tuesday 1st December 10am to 4pm

.
We look forward to seeing you soon!!
This is a very difficult time for everyone and we appreciate all the love & support you our clients have shown us. Thank You. Love the Mint Team
Click on the link below to see the extra measures we have put in place to look after you and our team.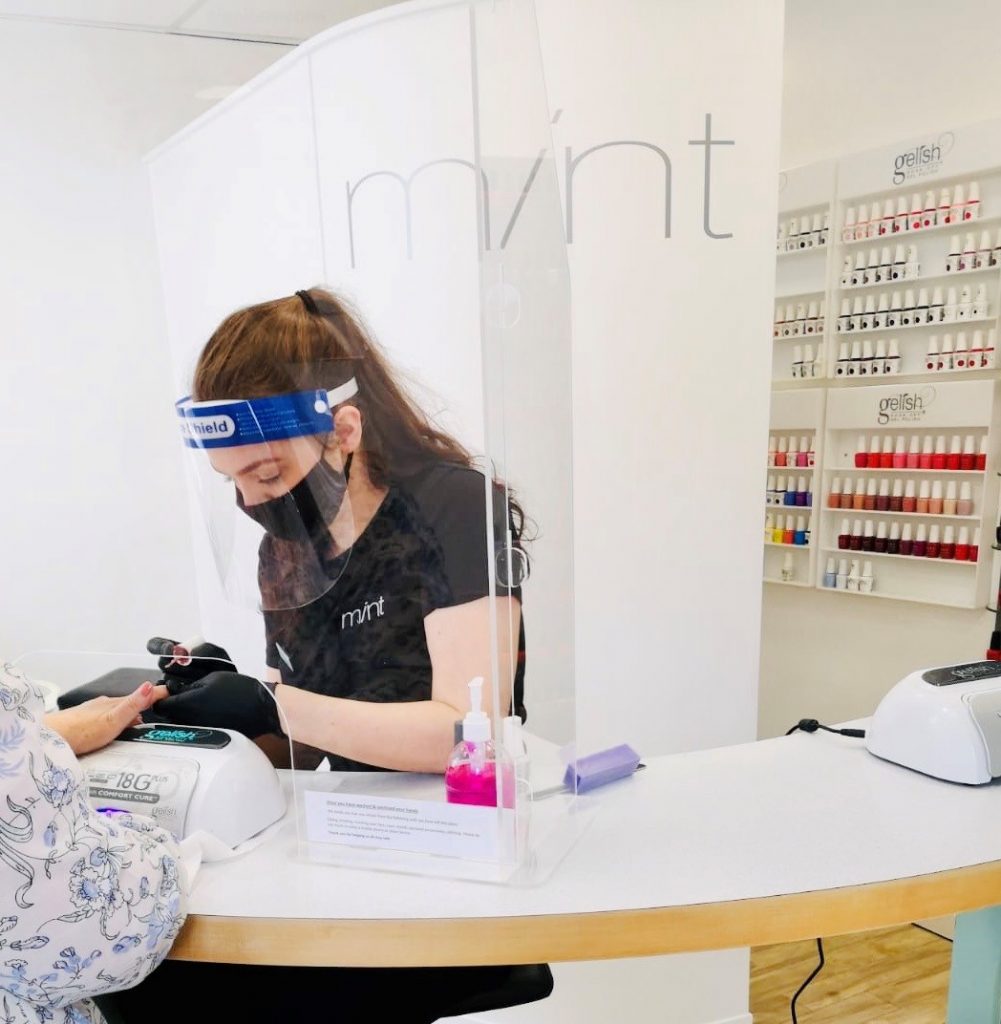 All customers will be required to wash & sanitise their hands before any treatments are performed
please attend your appointment on your own
We no longer accept cash payments – please use contactless where possible.
Extensive use of protective screens
Limited number of appointments – to maintain social distancing between work-stations
Personal Protective Equipment used by therapists for performing treatments
Customers will be required to wear face coverings.
Enhanced hygiene protocols & procedures for all our treatments & procedures.
Please arrive on time but no more than 5 minutes early for your appointment,
Once you have washed your hands you will be asked not to eat, drink or touch your personal items including your mobile phone.
THANK YOU FOR YOUR PATIENCE & SUPPORT – WE LOOK FORWARD TO SEEING YOU SOON – THE MINT TEAM
Treatments
Branches in
To book a treatment
You can either book in advance or simply call in. We endeavour to offer a walk in service at all times and arrange our staffing level accordingly. However, to avoid disappointment, and for peak times such as evenings and weekends, you may be better to book in advance.
Treatments for persons under 16 years of age
We have a strict policy regarding persons under the age of 16. If you are wishing to book a treatment for a person under 16 please call your salon and ask for details of this policy.
To book online
click here to book online. We know that you don't always plan in advance to have a treat and that you don't know a week in advance that you are going to break a nail. That is why Mint tries to fit you in when you want, we cannot always promise to book you in but we can promise to do our best.
For girls and boys
Most of our treatments are suitable for both men and women, please ask for details.
Gift vouchers
For information about Gift Vouchers please click here.